Update on UKWIR's Big Questions
Published On 09/11/2018
There have been a number of developments within the UKWIR Big Question Programme, and this article details those.
The image below, shows that how the UKWIR Big Question Programme is progressing.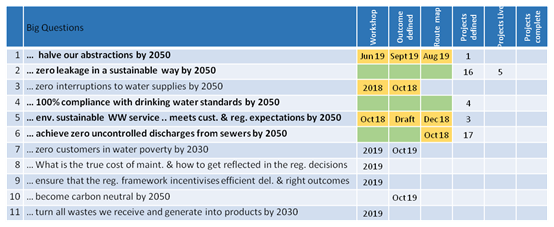 The following lists some of the most recent developments:
BQ2: Achieving Zero Leakage in a Sustainable Way by 2050
This BQ has progressed the furthest. There are a number of on-going projects including those focused on Plumbing Losses (phase 2), Smart Meters and Repeat Bursts. Two new PhDs have started focused on acoustic sensing techniques to detect leakage, with a further one on Fibre Optics planned.
BQ4: Achieving 100% Compliance with Drinking Water Standards at Point of Use by 2050
This BQ is gathering momentum with several projects commencing this autumn as follows:
CIP for Drinking Water
Chemistry of Lead
Enhancing Natural Processes
Disinfection by-product project (Post doctorate).
BQ6: Achieving Zero Uncontrolled Discharges from sewers by 2050
Previous work has been reviewed and five project outlines have been developed.
BQ5: Delivering an Environmentally Sustainable Waste Water Service by 2050
A phase 1 project, Research review and Gap Analysis, has been scoped and is currently in the tender process.
BQ7: Zero Customers in Water Poverty by 2030
A Phase 1 project for this BQ has been scoped. It will involve defining water poverty and evaluating existing information and approaches to reduce water poverty.
BQ1: Halve Our Abstractions by 2050
Progress of this BQ is in the form of a Phase 1 project: Research Review and Gap Analysis. It should commence in January 2019.