Extending the Capability of SAGIS by Developing a Climate Change Sensitivity Analysis Tool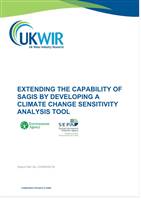 This project has delivered a spreadsheet tool that extends the capability of the SAGIS-SIMCAT system by enabling modellers to directly apply climate change related modifications to SIMCAT dat files, to process outputs and to present useful and intuitive visualisations of complex data. The tool enables water companies and regulators to explicitly include climate change considerations in SAGIS-SIMCAT catchment and asset management planning applications for PR24, thereby supporting the requirements of the Climate Change Act 2008 and the Water Industry Strategic Environmental Requirements (WISER) document. Through the automation and streamlining of data management processes, the tool reduces the time and effort associated with scenario modelling and provides more effective modelling and planning procedures that take climate change into account in water quality planning. The project has served as a multi-stakeholder forum that has facilitated the dissemination, discussion and exchange of SAGIS-SIMCAT knowledge and ideas.
There may be a significant reduction in the price of this report if you have already bought a copy of the previous SAGIS report. If you buy this latest report, you also receive all previous SAGIS reports as attachments. Please contact the UKWIR office for assistance.
UKWIR Reference

22/WW/02/16

Published Date

18/07/2022

Retail Price (£)

600

ISBN

978-1-84057-951-2
Supporting Material and Reports
| | |
| --- | --- |
| | SAGIS_ClimateChangeAnalysis_Release20220222 |
| | |
| --- | --- |
| | Extending the Capability of SAGIS by Delivering a Climate Change Sensitivity Analysis Tool Appendix A |