Urban Runoff (Including Road Runoff) And Atmospheric Deposition - How To Apportion Pollution Load Especially Chemicals Of Emerging Concern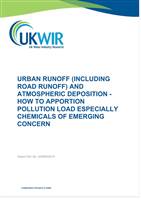 Diffuse pollution such as urban run-off and atmospheric deposition is a well-established source of pollutants. This project reviewed existing data and knowledge of chemicals of emerging concern (CEC) in urban run-off (including highways) and atmospheric deposition and assessed the potential for this data to be used within the Source Apportionment Geographical Information System (SAGIS) modelling system.
This UKWIR project led by Atkins with the University of Plymouth presents the current understanding through:
providing a systematic review of relevant literature to identify contributions of a defined range of CECs and microplastics and to identify possible knowledge gaps.
evaluating sources to assess their potential to inform an update of data included in SAGIS, as well as to identify information gaps.
reviewing interventions for the interception of microplastics and the identified CECs during their transit from source to receptor.
UKWIR Reference

22/WW/02/15

Published Date

11/08/2022

Retail Price (£)

37

ISBN

978-1-84057-948-2
Supporting Material and Reports
| | |
| --- | --- |
| | Atmospheric Deposition_Core Literature Records_21-06-2022 |
| | |
| --- | --- |
| | Atmospheric Deposition_Grey Search Records_21-06-2022 |
| | |
| --- | --- |
| | Atmospheric Deposition_Literature Search Records_21-06-2022 |
| | |
| --- | --- |
| | Urban Runoff (Including Road Runoff) And Atmospheric Deposition - How To Apportion Pollution Load Especially Chemicals Of Emerging Concern - Accompanying Files |
| | |
| --- | --- |
| | Urban_Road Runoff Core Literature_21-06-2022 |
| | |
| --- | --- |
| | Urban_Road Runoff Grey Search Records_21-06-2022 |
| | |
| --- | --- |
| | Appendices to the report 'Urban Runoff (Including Road Runoff) And Atmospheric Deposition - How To Apportion Pollution Load Especially Chemicals Of Emerging Concern' |