Treated Water Storage Assets: Good Practice for Operation & Management Version 2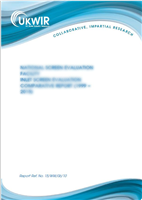 The purpose of this project is to provide water companies with good practice guidance for the whole life management of the construction, refurbishment, repair, operation and maintenance of treated water storage assets. Such guidance is mapped to the UKWIR Framework for Expenditure Decision Making in order to help asset managers, operators and capital investment planners better inform investment decisions to manage water quality risks.
The project was developed in conjunction with significant industry engagement, through two industry workshops involving representatives from UK Water Companies, Regulators, Academia and Industry, and five water company interviews.
The project deliverables consist of:
a guidance document summarising good practices for the inspection, operation, maintenance, refurbishment, repair and new construction of treated water storage assets; and
a complementary spreadsheet toolkit illustrating a process to support investment planning activities for treated water storage assets through a condition assessment, deterioration and risk modelling approach.
Please note that this report – 'Treated Water Storage Assets: Good Practice for Operation and Management – Version 2', reference number - 19/RG/05/50 replaces the previous version (17/RG/05/48). The majority of the revisions made are to the sections on 'external roof membranes (section 10.11)' and 'intelligent membranes (section 13.4.4)' plus the associated table in Appendix 5. Please destroy or delete any copies of the previous version of the report that you have.
We apologise for any inconvenience this may cause.
UKWIR Reference

19/RG/05/50

Published Date

14/08/2019

Retail Price (£)

45

ISBN

978-1-84057-871-3
Supporting Material and Reports
| | |
| --- | --- |
| | 19/RG/05/50 CD |