TASTE AND ODOUR (T&O): METHODS OF DETECTION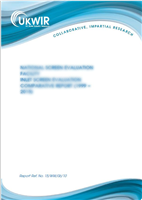 The UKWIR project 'Taste and Odour (T&O): Methods of Detection' reviewed literature, carried out comprehensive non-targeted chemical and microbiological analysis and developed targeted analytical methods for various key chemical compounds; to help water companies better understand and measure the compounds that cause T&O. The project used innovative techniques such as the analysis of carbon cartridge filter samples and the first use of DNA sequence based microbiology in T&O investigations. This project report includes:
A summary of the literature review; including a T&O threshold summary table.
Details of the non-targeted analysis; including the methodologies used, the results obtained and the conclusions drawn.
A summary of the targeted methods that were developed.
Recommendations for techniques for water companies to employ to help them in the investigation of customer contacts about T&O.
Recommendations for future projects to help further increase knowledge in this area.
Three Standard Operating Procedures (SOPs) were also produced as part of this project. These were for 1) brominated and chlorinated anisoles; 2) alkyl benzenes and naphthalenes; 3) sulphur compounds and are provided in separate reports (UKWIR members only).
UKWIR Reference

21/DW/13/6

Published Date

09/11/2021

Retail Price (£)

28

ISBN

978-1-84057-927-7
Supporting Material and Reports
| | |
| --- | --- |
| | Final Report for - BQ - Achieving 100% compliance with drinking water standards at point of use by 2050? Taste and Odour: Methods of Detection CD Software |