Using sludge from advanced anaerobic digesters to reduce the rate of phosphorous run-off from farm slurry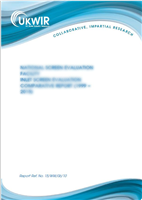 The water soluble phosphorus (WSP) content of organic materials is directly related to their potential for P transfer in run-off after land application. Biosolids have a lower WSP than livestock slurry and hence a lower risk of P loss in run-off. The addition of biosolids to livestock slurry at an appropriate rate could reduce the WSP content of the resulting mix due to the binding properties of certain biosolids (as a result of iron-Fe, aluminium-Al and calcium-Ca cations).

A series of experiments were undertaken using a range of biosolids products added to cattle slurry at a variety of mixing rates. The experiments showed that mixing biosolids, or in particular clean water sludge, with slurry did decrease the WSP of the slurry/biosolids mix (compared to slurry). Similarly, the PSYCHIC model predicted a reduction in total catchment P losses, following the addition of the mixed organic material, in comparison to separate applications.
UKWIR Reference

15/SL/02/11

Published Date

06/11/2015

Retail Price (£)

20

ISBN

1 84057 795 9
Supporting Material and Reports
| | |
| --- | --- |
| | Using sludge from advanced anaerobic digesters to reduce the rate of phosphorous run-off from farm slurry 15/SL/02/11 |