Risk Based Prioritisation of Pharmaceuticals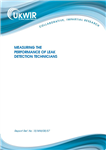 A range of pharmceuticals has been detected in the natural environment across the world. Concerns have therefore been raised over the potential effects of active pharmaceutical ingredients in the environment on human and environmental health and , over the past 15 years, a substantial amount of work has been undertaken to determine the occurrence, fate, effects and risks of pharmaceuticals in the environment. The aim of this project was to provide the UK water industry with a priority list of pharmaceuticals to indicate the contribution from wastewater treatment and help inform UK policy. Environmental exposure of the most used pharmaceuticals in primary and secondary care, plus some compounds considered an environmental hazard was compared to relevant environmental effects data and the compounds prioritised to identify those where attention should focus. The data was used to select pharmaceutical compounds for the second Chemical Investigations Programme and two priority lists of pharmaceuticals were generated for further consideration by the wastewater industry.
The primary priority list contained fifteen compounds that demonstrated an environmental risk during the prioritisation. The secondary list contained twenty-five compunds that demonstrated the possibility of environmental risk when associated prioritisation uncertainty was considered.
UKWIR Reference

14/WW/17/16

Published Date

06/08/2014

Retail Price (£)

22

ISBN

1 84057 735 5