Understanding the Impacts of Drought Restrictions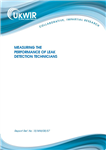 Increasing pressures on water resources are requiring more effective interventions to manage periods of drought.
The 2012 drought provided the first opportunity for water companies to implement a wider range of Temporary Use Bans (TUBs) as introduced by The Water Use (Temporary Bans) Order 2010. Seven water companies implemented TUBs on around 20 million customers. To date, there has been little assessment of the actual impacts on water use behaviour or the effectiveness of water company communications during the drought.
This report presents a clearer picture of the impacts of TUBs during a drought and will support improved messaging and approaches in future droughts. This can financially benefit water companies, through more effective customer messaging to achieve greater water savings. Additionally, understanding the direct and indirect impacts on non-household users will support customer relationships and the existing service incentive mechanism.
UKWIR Reference

14/WR/01/13

Published Date

18/02/2014

Retail Price (£)

36

ISBN

1 84057 712 6