Biosolids: Good Practice Guidance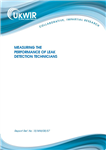 This biosolids good practice guidance document is intended to provide advice and information to knowledgeable practitioners on sustainable biosolids recycling to agricultural land. The guide covers the treatment of sewage sludge to produce biosolids, the benefits associated with using biosolids in agriculture and regulatory requirements.
Following the guidance in this document will help practitioners get the most from biosolids applications to agricultural land. From a water industry perspective, the good practice guidance developed in this project will enable operators to secure a sustainable landbank and 'recover' more value from biosolids sales; helping to offset treatment, transportation and application costs.
UKWIR Reference

14/SL/11/7

Published Date

09/06/2014

Retail Price (£)

18

ISBN

1 84057 730 4