Sustainable Sludge Thickening and Treatment at Small WwTWs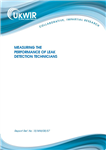 At present, it is usual for thin sludge produced at smaller wastewater treatment works (WwTW) to receive very little treatment before being tankered to a larger WwTW for further treatment. Thus, large volumes of sludge are transported substantial distances. This is expensive and increases the overall carbon footprint of wastewater treatment.
This study investigates alternative approaches for the management of sludge produced at small WwTWs (defined as serving 25,000 population equivalent or less) which may help reduce water company costs and environmental impacts. It considers the overall technical advantages and constraints for these alternatives and provides a comparison of both relative costs (whole life costs and payback periods) and potential environmental effects (arising from transport, sludge liquors treatment, odour and greenhouse gas emissions).
The results of the study provide a framework for considering sustainable sludge management options for small WwTWs which covers technical, economic and environmental considerations.
UKWIR Reference

13/SL/11/6

Published Date

04/04/2013

Retail Price (£)

17

ISBN

1 84057 671 5
Supporting Material and Reports
| | |
| --- | --- |
| | Sustainable Sludge Thickening and Treatment at Small WwTWs CD |