Uses for CO2 in Biogas Produced from Anaerobic Digestion - Summary Report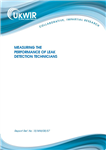 The CO2 content of the biogas produced during wastewater treatment is not counted as emissions under normal carbon accounting rules. A key objective of this project was to identify methods for capturing, separating and using CO2 from biogas. The methods identified are based on established technologies used for the upgrading of biogas. A wide range of offsite and onsite uses for CO2 was identified, with a low or negative market value for CO2, whilst onsite uses were more cost effective than the offsite uses.
Another objective was to understand how much the industry can reduce its carbon footprint. The main sources of CO2 emission; sludge incineration, biogas generation, the post-combustion of biogas and the biogenic emission of CO2 from aerobic treatment, account for almost 40% of the total CO2 emissions from the industry. The findings of this project will assist decision making in targeting efforts to mitigate CO2 emissions.
Sold as a set with 11/SL/13/3 (attached on CD).
UKWIR Reference

11/SL/13/2

Published Date

06/06/2011

Retail Price (£)

17

ISBN

1 84057 593 X
Supporting Material and Reports
| | |
| --- | --- |
| | Uses for CO2 in Biogas Produced from Anaerobic Digestion - Technical Report CD |