Improving the testing approach to lining materials for potable water networks – Phase 1 Workshop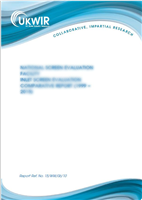 As an UKWIR BQ2 (Zero Leakage) and BQ3 (Zero Interruptions) collaboration, a series of workshops were held in the summer of 2021. Four interrelated topics were discussed virtually by water companies, their contractors and the supply chain. Innovative methods were used for gathering and sharing data, insight and opinion in order to disseminate valuable learning and knowledge in relatively short timescales to the appropriate industry areas.
Companies perceive that the use of linings in water pipes to reduce leakage will be required to meet regulatory targets in the coming decades. This report examines existing literature to identify potential methods to be developed to test the long-term viability of these types of linings.
A workshop was held bringing experts together from water companies and the supply chain and industry surveys were also carried out. The report identifies three follow-on projects for the industry to consider to further develop this work as a potential Phase 2.
UKWIR Reference

22/WM/03/25

Published Date

08/02/2022

Retail Price (£)

29

ISBN

978-1-84057-932-1
Supporting Material and Reports
| | |
| --- | --- |
| | Improving the testing approach to lining materials for potable water networks – Phase 1 Workshop - Appendix C - Literature Review |