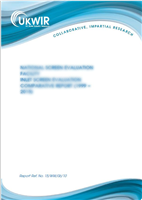 This project forms part of UKWIR's Asset Management Big Question of 'How to continue creating positive value through Asset Management decision making?'. The project focuses on the objective of developing an overall idealised design of a risk framework which considers the elements of asset risk, the system the assets operate within and the system of system risk.
Using principles of co-creation and iterative solution generation, the project used workshops, desk research, and interviews to develop the idealised asset risk framework or 'vision for the future'. This involved investigating risk management approaches within the UK water sector, internationally as well as comparing against various other sectors.
Through this, the Idealised Asset Risk Framework was developed to provide a diagrammatic tool which organisations can use to describe a system of interest, explore the risks and risk dependencies across/between asset groups, and therefore structure risk analysis using both existing and in-development approaches/techniques.
UKWIR Reference

21/RG/05/57

Published Date

24/11/2021

Retail Price (£)

42

ISBN

978-1-84057-928-4