The National Chemical Investigations Programme 2015-2020 - Volume 1 Part 2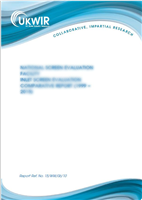 The Chemical Investigations Programme (CIP) was established by UKWIR in response to emerging legislation on surface water quality. The first phase provided an overview of the occurrence, behaviour and management of trace contaminants in wastewater. This second phase aims to identify sites at which action might need to be taken and to act as a basis for proposed solutions that are effective, proportional to the Water Industry contribution to contamination, and demonstrably justifiable down to a detailed local level. The outputs are published in four volumes (available separately) as follows:
Volume 1 Part 2 (2015-2020) Monitoring of Sewage Effluents, Surface Waters and Sewage Sludge - Review of Programme Results and Conclusions. This volume replaces the interim (Part 1) monitoring report which was published in 2018 (Report Ref. No. 18/EQ/01/12). A copy of the Part 1 report will be provided with the Part 2 report.
Volume 2 Monitoring of Substances of Emerging Concern, Report Ref. No. 18/EQ/01/13
Volume 3 Wastewater Treatment Technology Trials, Report Ref. No. 18/EQ/01/14
Volume 4 Catchment Investigations, Report Ref. No. 18/EQ/01/15
These publications document CIP findings and will form the basis of future policy on the control of chemicals in the water environment
UKWIR Reference

20/EQ/01/20

Published Date

16/12/2020

Retail Price (£)

20

ISBN

978-1-84057-908-6
Supporting Material and Reports
| | |
| --- | --- |
| | 20EQ0120 CD |