Improved Understanding of current and future household consumption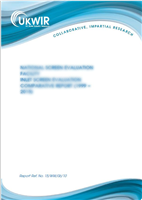 The UKWIR project 'Improving Understanding of Household Consumption' collated and analysed water metering data to explore patterns in demand for water. The project used innovative data analysis methods to separate measurements of individual household use into ten weekday and ten weekend profiles. These were then interpreted with reference to environmental and socio-economic factors and their influence on customer behaviour. Changes to patterns of water demand through time were also explored. The project report included:
Detail of the processes applied for data collection and management, the methodology used to partition households into 'clusters' and the results of the data interpretation.
Guidance for water companies and other organisations on the implementation of the methods presented, including supporting information on which methods to use and practical guidance.
Recommendations for the development of a longitudinal study of household data, to ensure that data collected in future are suitable for data analysis.
UKWIR Reference

21/WR/01/17

Published Date

28/04/2021

Retail Price (£)

35

ISBN

978-1-84057-916-1