Future Asset Planning – Scenarios, frameworks and measures: Final report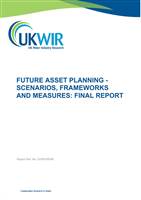 UKWIR's Big Question 08 asked "How do we continue to create value through Asset Management decision making? This project sought to answer this through merging three sub-projects delivered by an international consortium of industry and academic partners to define a Future Asset Planning framework. The framework addressed: Asset Health, Scenario Planning and Value Frameworks.
In a significant piece of work led by Atkins and supported by Ovarro, University of Manchester and Asset Resolutions, the project provided:
a set of Value Measures and methods to build Value Frameworks in order to address true sustainability by engaging with diverse stakeholder groups to understand what is of value to them;
a more structured approach to Asset Health addressing traditional assets but also considering the increased use of digital and natural asset solutions;
an industry wide approach to considering scenario uncertainties and a set of development pathways to lead to adaptive planning approaches.
UKWIR Reference

22/RG/05/58

Published Date

06/10/2022

Retail Price (£)

145

ISBN

978-1-84057-954-3
Supporting Material and Reports
| | |
| --- | --- |
| | Future Asset Planning Workbook 1 - Value Framework Builder |
| | |
| --- | --- |
| | Future Asset Planning Workbook 2 - Asset Health Measure Assessments |
| | |
| --- | --- |
| | Future Asset Planning Workbook 3 - Asset Health Measure Calculation Methods |
| | |
| --- | --- |
| | Future Asset Planning: Scenarios Frameworks and Measures - Appendix A |
| | |
| --- | --- |
| | Future Asset Planning: Scenarios Frameworks and Measures - Appendix B |
| | |
| --- | --- |
| | Future Asset Planning: Scenarios Frameworks and Measures - Appendix C |
| | |
| --- | --- |
| | Future Asset Planning: Scenarios Frameworks and Measures - Appendix D |
| | |
| --- | --- |
| | Future Asset Planning: Scenarios Frameworks and Measures - Appendix E |
| | |
| --- | --- |
| | Future Asset Planning: Scenarios Frameworks and Measures - Appendix F |
| | |
| --- | --- |
| | Future Asset Planning: Scenarios Frameworks and Measures - Appendix G |
| | |
| --- | --- |
| | Future Asset Planning: Scenarios Frameworks and Measures - Appendix H |
| | |
| --- | --- |
| | Future Asset Planning: Scenarios Frameworks and Measures - Appendix I |
| | |
| --- | --- |
| | Future Asset Planning: Scenarios Frameworks and Measures - Appendix J |
| | |
| --- | --- |
| | Future Asset Planning: Scenarios Frameworks and Measures - Appendix K |
| | |
| --- | --- |
| | Future Asset Planning: Scenarios Frameworks and Measures - Appendix L |
| | |
| --- | --- |
| | Future Asset Planning: Scenarios Frameworks and Measures - Appendix M |
| | |
| --- | --- |
| | Future Asset Planning: Scenarios Frameworks and Measures - Appendix N |