Where is the greatest sustainable economic benefit for resource recovery in the water cycle?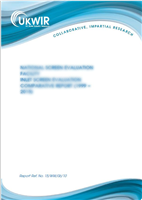 This project, part of Big Question 11, addressed key challenges and identified research needs towards maximising recovery of useful resources and achieve zero waste by 2050?
Topics covered: circular economy; minimised carbon wastewater service; customers' expectations; resource recovery; bioresources; market opportunities; net zero carbon and waste.
The aim of this work is to identify where the greatest benefit and potential from resource recovery and utilisation based on market needs and to inform the prioritisation of efforts around resource recovery and provide a scoring tool for resource recovery and efficiency opportunities.
Outputs include a literature and practical review identifying further opportunities and wider benefits and an evaluation of the recovery opportunities of over 40 technologies. Business as usual, and three other scenarios incorporating market sizes were considered.
Production of increased renewable energy, as was the regulation of requirements for co-digestion or material certification and any potential to disrupt biosolids to land is considered.
Heat, biogas, biomethane, biosolids, ferric drinking water sludge and nitrogen gave the greatest opportunities.
Recommendations include: companies should collaborate to develop resource recovery in priority areas; a focus on near term enablers taking a six capitals approach is most useful; the Water Sector Innovation Centre of Excellence should be used to drive resource recovery and benefits for customers; developing industry-specific approaches using tools such as LCA (Life cycle assessment) should support the best carbon and wider benefits.
UKWIR Reference

21/SL/12/4

Published Date

28/10/2021

Retail Price (£)

38

ISBN

978-1-84057-926-0
Supporting Material and Reports
| | |
| --- | --- |
| | Final Report for - Where is the greatest sustainable economic benefit for resource recovery in the water cycle? CD Software |