What does a circular economy water industry look like?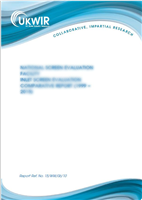 This project, part of Big Question 11, addressed key challenges and identified research needs towards maximising recovery of useful resources and achieve zero waste by 2050?
Topics covered: circular economy; minimised carbon wastewater service; customers' expectations; resource recovery; net zero carbon and waste.
The project objectives were to: determine what a circular economy (CE) water industry looks like and identify the baseline position for the industry; to identify and assess the benefits of circular economy; to reflect resource recovery practice in other sectors, all to benefit customers.
The project uses published literature and presents definitions and principles of a circular economy to develop a revised route map.
It was concluded that a CE water sector minimises resource use by maintaining circular resource flows and contributing to sustainable development through being lower carbon, hence giving greatest value for customers.
Recommendations include collaboration via the Innovation Centre of Excellence and to value assess benefits across companies to address opportunities for CE. Benefits should be delivered through integrating research outcomes with asset strategy and engineering delivery which is considered essential to benefit current and future customers.
UKWIR Reference

21/SL/12/3

Published Date

28/10/2021

Retail Price (£)

37

ISBN

978-1-84057-925-3