Minimising Street Works Disruption: The Real Costs of Street Works to the Utility Industry and Society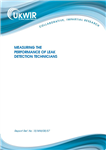 The Minimising Street Works Disruption programme identified 15 projects under four overall headings, the first of which looked at how work could be improved just by making better use of current technology. Within this group of projects, one project was identified to develop a better understanding of what street works cost the utility industry and what they cost society in general.
This report details the results from that project. It reviews literature on the subject and endeavours to estimate both the direct cost of street works to utilities and the costs of street works to society. It identifies the ways in which these costs can be minimised as well as gaps in knowledge requiring further research.
UKWIR Reference

05/WM/12/8

Published Date

26/06/2006

Retail Price (£)

21

ISBN

1 84057 408 9