Assessing the effectiveness of the regulatory framework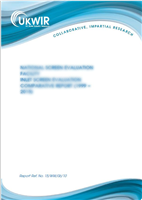 Frontier Economics was commissioned by UKWIR to identify the priorities of its members for future improvements to economic regulation, and to define scopes of work for future projects to explore these further. To achieve these objectives, Frontier Economics held interviews with individual water companies to identify their strategic priorities for the future, hosted workshops with all water companies to discuss options and ran a discussion forum with water companies and stakeholders.
Drawing on these discussions, Frontier Economics developed the following scopes of work for future deep dive projects.
How could the regulatory framework better reflect and incentivise long-term investment?
How should customers' and stakeholders' views be used in regulatory decisions?
How can the assessment of risk and reward be enhanced to better articulate the actual risks borne by companies and the calculations be made more consistent across the industry?
This report details these discussions and presents the deep dive scopes.
UKWIR Reference

21/RG/05/56

Published Date

30/03/2021

Retail Price (£)

21

ISBN

978-1-84057-914-7