Incidence and Causes of Repeat Bursts at Old Repairs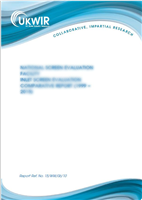 Analysis was undertaken at a national level to examine the proportion of mains bursts that are caused by failures of previous repairs, and how these vary between pipe materials and UK water companies.
Bursts identified as such were analysed to determine the likely cause of the failure; whether this was due to issues present at the time of the initial repair (e.g. poor workmanship), or to deterioration of the repair materials used.
Focusing on issues identified in the analysis, consolidated guidance has been prepared for maintenance operatives carrying out mains repairs in order to minimise the risk of future repeat failure.
UKWIR Reference

19/WM/08/71

Published Date

18/11/2019

Retail Price (£)

22

ISBN

978-1-84057-883-6