ACHIEVING ZERO CUSTOMERS IN WATER POVERTY BY 2030 SPRINT WORKSHOP SUMMARY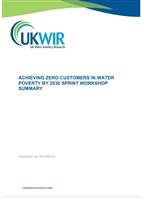 As part of UK Water Industry Research (UKWIR) big question programme we are asking…. How do we achieve zero customers in water poverty by 2030? We know water is an essential resource, households have access to clean and plentiful supply of water and cannot be cut off if they fall behind on their bills. However, for many people, the cost of water and wastewater services is unaffordable which puts them in 'water poverty'.
At the start of the programme in 2019, we drafted a route map to answer this question, but following many industry developments, we conducted a sprint workshop with a cross section of stakeholders to generate ideas to refresh the Routemap.
UKWIR Reference

22/CU/04/10

Published Date

16/11/2022

Retail Price (£)

19

ISBN

978-1-84057-955-0