WRMP 2019 Methods – Decision Making Process: Guidance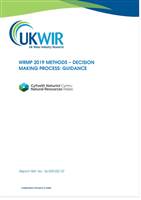 As part of the UKWIR WRMP 2019 Methods Programme, the Decision Making Process Project was commissioned to provide a revised and updated decision making framework which reflects the evolution from the Economics of Balancing Supply & Demand (EBSD) framework (2002). It aims to guide water resource planners on framing the problem and on addressing it using the full array of feasible techniques (both old and new).

The decision making framework provides a clear, auditable and systematic process for planners to follow in relation to the development and application of decision making approaches for water resource planning. This decision making framework should be read in conjunction with the parallel UKWIR Guidance on Risk Based Planning Methods. Both projects form part of a linked investigation into risks, uncertainty and alternative approaches to WRMP decision making that can be incorporated into the development of WRMPs.

The report is available for Download free of charge by clicking here.
UKWIR Reference

16/WR/02/10

Published Date

27/05/2016

Retail Price (£)

37

ISBN

1 84057 813 0